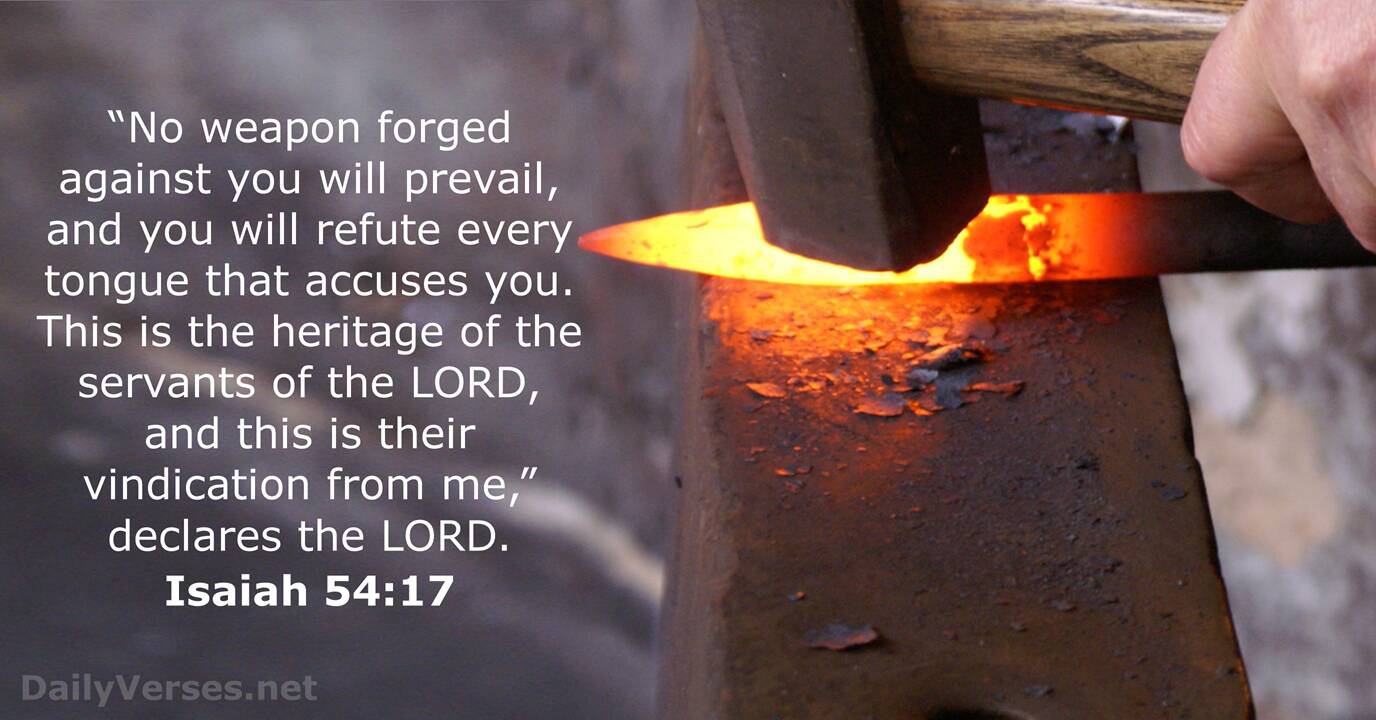 A heritage is an inheritance, a gift given to the sons and daughters from the parents, something passed on from generation to generation. What is the heritage of God's servants? 1) No weapon formed against you shall prosper and 2) you shall refute every tongue that rises against you in judgment.
Think about this. Satan is called "the accuser." And He continually battles against God and His servants (Eph. 6:10-20). But here we have the promise that Satan's weapons will not prosper against us nor will his accusations succeed. Here, in a nutshell, is the Gospel of Christ.
By adoption into His family through Christ's blood, we have become God's children. And as His children, we are told that we will have trials but to be of good cheer because Christ has overcome the world; that nothing can take us out of our Father's hand; and that we shall be cleansed of our transgressions and shall victoriously stand in Christ because He that is in us is greater than he that is in the world.
We do not have to fear any longer.
Those sins that are in our past? They cannot be held against us any longer. There is now no condemnation for those who are in Christ Jesus.
That former manner of life with its corrupt and deceitful desires? We now belong to a new self, renewed in the spirit of our mind, and created after the likeness of God in true righteousness and holiness.
Those temptations that overtake you? God is faithful, and he will not let you be tempted beyond your ability, but with the temptation he will also provide the way of escape, that you may be able to endure it.
Those attempts to destroy us? We shall not fear those who can kill the body. Instead, we fear only God who can kill both body and soul in hell.
For we are sure that neither death nor life, nor angels nor rulers, nor things present nor things to come, nor powers, nor height nor depth, nor anything else in all creation, will be able to separate us from the love of God in Christ Jesus our Lord.
But that's just the first half of our inheritance.
The second half of our inheritance from God is that we shall refute every tongue that accuses us.
"For though we walk in the flesh, we are not waging war according to the flesh. For the weapons of our warfare are not of the flesh but have divine power to destroy strongholds. We destroy arguments and every lofty opinion raised against the knowledge of God, and take every thought captive to obey Christ, being ready to punish every disobedience, when your obedience is complete." (2 Cor. 10:3-6)
"They will lay their hands on you and persecute you, delivering you up to the synagogues and prisons, and you will be brought before kings and governors for my name's sake. This will be your opportunity to bear witness. Settle it therefore in your minds not to meditate beforehand how to answer, for I will give you a mouth and wisdom, which none of your adversaries will be able to withstand or contradict." (Luke 21:12-15)
Behold, I have given you authority to tread on serpents and scorpions, and over all the power of the enemy, and nothing shall hurt you. (Luke 10:19)
"Therefore take up the whole armor of God, that you may be able to withstand in the evil day, and having done all, to stand firm." (Eph. 6:13)
"The Lord will cause your enemies who rise against you to be defeated before you. They shall come out against you one way and flee before you seven ways." (Deut. 28:7)
"For everyone who has been born of God overcomes the world. And this is the victory that has overcome the world—our faith. Who is it that overcomes the world except the one who believes that Jesus is the Son of God?" (1 John 5:4-5)
Put these two things together and God calls it His vindication. It is His proof that we are His and that we no longer are held captive to the world's way of doing things. He has made an exchange on our behalf, taking on our sin through His sacrifice on the cross, so that we might take on His righteousness. We are acquitted from the wrath that would have been due us (Rom. 5:9-10) and now, the way we interact with the world is the proof that we are saved from (as well as to) some immense realities.
This vindicationis what we Christians know as salvation.
But it is much, much more than salvation from hell.
And while some would define it as:
Salvation from the dominion of sin and raised to walk in newness of life.
Salvation from fear of what man can do to us and to confidence in God's continuous help and protection.
Salvation from God's wrath and to the hope of eternal life.
Salvation from anxiety and fear and to security and glory with God.
It is salvation from a law that demands perfection and to a law of liberty in Christ.
It is salvation from defining love as a physical performance or an emotional response to a practical expression of God's nature to others as well as an outgrowth of our belief.
It is salvation from the quid pro quo nature of this world to the free invitation to let the one who is thirsty come and to let the one who desires take the water of life without price.
Salvation from the futile grasping onto things that moth and rust destroy and exchanging it for an inheritance that is "imperishable, undefiled, and unfading." (1 Pet. 1:4)
It is a salvation from ourselves and a salvation to God.
It is all this and even more than we can ever ask or imagine.
Therefore we must ask: "What then shall we say to these things? If God is for us, who can be against us?"
– Romans 8:31